Zambia's leading Mobile Telecommunication operator, MTN Zambia today announced the launch of its 5G network pilot platform in the country which promises significant improved technology which will enhance faster connectivity speed, ultra – low latency and greater bandwidth.
5G cellular networks are at least 10 times faster than 4G which creates never-before-seen opportunities for people and businesses in Zambia.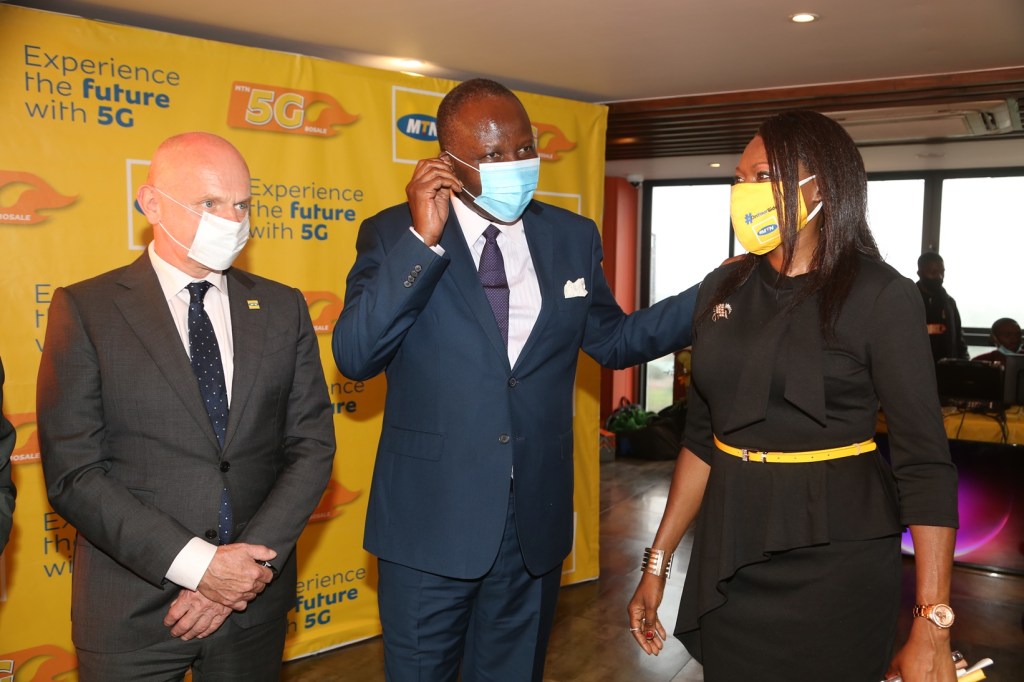 "5G technology can connect virtually everyone and everything, including machines, objects, and devices. We are moving into an era of ubiquitous connectivity." explained Mr. Bart Hofker, Chief Executive Officer, MTN Zambia. "MTN Zambia will be rolling out 5G pilot demonstration sites in Lusaka and Copperbelt Provinces and we are eager to set up specific and relevant use cases together with our Zambian customers and partners to expand social and commercial horizons, alongside the rest of the world."
Speaking at the same launch, Minister of Technology and Science, Honourable Felix Mutati said "the 5G pilot launch by MTN Zambia has the capability to enhance social, cultural and commercial participation amongst the citizens of Zambia and also the global community."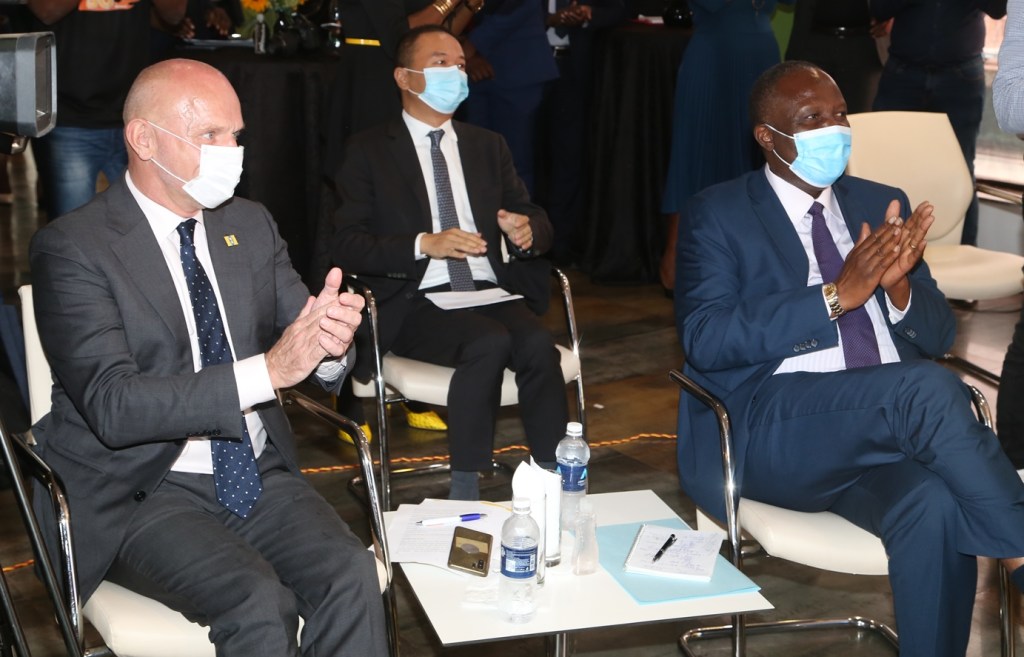 He added that, "although we are still in the early stages, the rollout of 5G technology has the potential to drive unprecedented inclusive growth in Zambia. It will transform the way we live and work and it will offer exciting new opportunities for entrepreneurs and youth in our country. Now is the time to begin putting in place the necessary building blocks to facilitate the transition to 5G and the Zambian government is committed to create a healthy environment to encourage these technology developments."
Apart from the many innovative applications of 5G, once the network is rolled out and more 5G devices are coming in, it will help increase general internet access in Zambia, where fixed broadband penetration is still low. 5G technology has the potential to aggregate much of the capability that currently sits across the different telecommunications archetypes (e.g. 2G, 3G, 4G, fibre). In the meantime, MTN Zambia remains committed to invest in its current network coverage and bringing communication opportunities to all Zambians that, until now, have been left out of the telecommunications revolution.
MTN Zambia is adding its voice to the global drive to raise awareness about the importance of wearing masks with today's launch of the #WearItForMe campaign across its 21 African and Middle Eastern markets.
To help drive this much-needed change in behaviour, MTN Zambia is committing its September 2020 marketing resources to encouraging everyone to do more to save lives.
As our Africa and Middle East markets continue to navigate the "new normal" brought about by COVID-19, wearing masks remains one of the most effective preventative measures to slow the spread of the virus and accelerate recovery. However, many people refuse to wear them, wear them incorrectly, or still feel it is not important.
MTN Zambia Chief Executive Officer, Mr Bart Hofker said "we have included a mother figure in our campaign to reinforce the company's message as our mothers play a big role when growing up."
#WearItForMe is the next phase in MTN's COVID-19 response under Y'ello Hope – MTN's umbrella initiative which provides much-needed support during times of societal need.
It is a powerful call-to-action using the voice of some of the most influential figures within our communities and across the continent; our mothers, and mother-figures. The initiative will see mothers and mother-figures sending heartfelt messages to their children, and all the children of Africa, to wear their masks and "wear it for me'' – saving lives.
MTN's #WearItForMe campaign will build on the work already carried out under Y'ello Hope to brighten lives and limit the impact of the pandemic. During this time, MTN has prioritised looking after its people, customers, communities and networks while focusing on efficiencies to help navigate the pandemic and its effects.
Initiatives ranged from free data lifelines and zero-rated access to educational sites. In addition, utilising technological solutions for contact tracing and dissemination of information through the Africa COVID Communication & Information Platform across our 21 markets.
"Mr Hofker added, "during our Yello Hope campaign we partnered with Save the Children International and offered our support to their School Feeding Programme which caters to the needs of over thirty thousand (30,000) school going children in Zambia."
He added "we also partnered with Lusaka City Council and Nemchem Chemicals Zambia Limited to disinfect and clean Kulima Tower bus station and part of Ben Bella Road in the fight against Covid-19 and in support of government's effort to Keep Zambia Clean, Green and Health Campaign."
#WearItForMe will run throughout the month of September. Visit Here to send a message to someone encouraging them to do the right thing. #WearItForMe: Because when we all wear masks, we protect each other.
LUSAKA – Leading telecommunications company MTN Zambia has kicked off 'Project Summer', a K180 million project to boost network capacity and enable high-speed data services on 337 3G and 4G (LTE) network sites across Zambia. The site-by-site technical roll-out started this week, focusing on areas with the highest demand pressure, starting in the Copperbelt, the northern regions followed by Lusaka. Customers will experience the benefits of the increased capacity immediately. The project is expected to finalise in August.
The improvements are done by adding additional carriers on existing 3G and 4G network sites and upgrading current 3G sites to 4G. Project Summer also includes the activation of the 800Mhz 4G spectrum which was released by ZICTA recently and which will improve the 4G indoor data experience for customers. This is important for economic participation during the COVID-crisis when more people are working from home requiring better indoor coverage.
During the press conference, MTN Zambia CEO Mr. Bart Hofker said: "We have seen a number of effects of the Covid-crisis on our network. Network usage during the day has shifted from the traditional peak/off-peak to a more even distribution during the day. We also see a higher traffic in residential areas compared to business parks and part of the demand has shifted from voice to data. These changes require a more flexible capacity planning from us. Once project Summer is completed, our customers can enjoy a generally improved network speed with little or no interruptions."
Mr Hofker added "We are constantly upgrading our network to stay ahead of the growing customer demand in Zambia. This year our total investment in network and IT is K315 million kwacha. In order to make sure nobody is left behind, we also plan to roll out an additional 100 rural sites together with our strategic partner VANU to expand reach and coverage in the remote areas of Zambia. We aim to finalize this by August, simultaneously with Project Summer. The remote coverage will be an addition to the existing 125 rural sites that we have in place as a result of our partnership with AMN."
Project Summer is a PAN-African Program from MTN, that aims to improve network capacity across the MTN footprint in Africa.
LUSAKA- While we are facing a challenging time with the spread of COVID-19, staying connected with family, friends, colleagues, and business partners has never been more important. As Zambia's No. 1 telecommunications provider, MTN Zambia in partnership with Simfy Africa, has today announced the launch of an instant messaging Application called 'Ayoba' that will be available to all android users and will allow customers to stay connected, chat and share media files at no cost.
Ayoba is a free instant messaging app, available for Android devices downloadable from the Google play store. The Ayoba App comes with the added benefit that allows customers to connect with anyone regardless of whether they have the Ayoba App or not. Ayoba will allow customers to securely send and receive text messages, voice messages, videos, images, audio and other files with any of their contacts, using their mobile device.
Commenting on the launch, MTN Zambia CEO, Mr. Bart Hofker said, "As we continue to lead the delivery of a bold, new digital world for our customers, we are introducing this Ayoba messaging App, the first of its kind in Zambia which will contribute to bridging the digital gap as well as provide our customers with a superior customer service. Ayoba is an exceptional new product that combines innovation, high end encryption security with convenience of service to ensure that we provide our customers with utmost satisfaction in terms of their digital experience."
Mr. Hofker also noted that, "2020 has not been an easy year so far especially with the rapid spread of the COVID-19 pandemic. It is easy for people to get discouraged in these moments and to look for relief from their anxiety. That is why we are offering our customers a chance to experience a brighter side of life during these dark times by embracing the use of our innovative products and services such as Ayoba and MusicTime to stay connected with their friends and loved ones and also stay entertained."
MTN Zambia Chief Marketing Officer, Mr. Seun Soladoye revealed that, "Our customers that download the Ayoba App will download it for free and will not be charged for data and SMS from the Ayoba App. The FREE data usage on Ayoba applies to all our customers from the moment that they install the App for the first time. After the first three (3) months free data usage on Ayoba, our customers can subscribe for Ayoba bundle as low as K1 and be able to stay connected with friends and loved ones through instant messaging and sharing of media files like pictures, music, videos and also the sharing of real time location with Ayoba contacts.
Ayoba can be downloaded from the Google play store or from the App website at www.ayoba.me.
LUSAKA – MTN Zambia has today launched a new range of non-expiry mobile data bundles dubbed Freedom bundles. The Freedom bundles are added to existing mobile data bundles to offer customers more choice and to contribute to digital inclusion in Zambia.
This introduction, the first of its kind in Zambia, means that MTN Zambia data customers can now load and use mobile data bundles that do not expire before they are exhausted.
MTN Zambia Chief Executive Officer, Mr Bart Hofker said, "Zambia's number 1 network has taken the lead in the industry by introducing the Freedom bundles. We know having this choice will delight many and we believe that it will also contribute to better data adoption and digital inclusion in Zambia."
Mr Hofker noted that the launch of the non-expiry mobile data bundles is in line with MTN's customer-first approach and is a testimony of MTN Zambia's commitment to listen and respond proactively to the changing needs of its growing and diverse customer base. "Expiring data bundles was a key concern for many of our customers, so we made the necessary adjustments to offer more choice."
MTN Zambia Chief Marketing Officer, Mr Seun Soladoye revealed that the new range of Freedom bundles are now available to MTN Zambia data customers alongside the other existing data bundles that have expiry dates, so customers have the liberty to choose a bundle that suits their needs and budget.
"The Freedom bundles are available to our pre-paid and hybrid customers. To access the Freedom bundles, simply dial our USSD shortcodes *111# or *335# and select the bundle of your choice, for yourself or as a gift for another MTN Zambia customer. Payment can be done through airtime or Mobile Money." he said.
LUSAKA – MTN Zambia is leading the delivery of a bold, new, digital world and reaffirming its position as Zambia's number 1 Internet Service Provider (ISP) by leading the way in providing Small Medium Enterprise (SME) specific business solutions.
Speaking in Lusaka today, MTN Business General Manager Komba Malukutila revealed that MTN Zambia decided to launch these innovative product offerings and propositions to cater to the specific needs of SMEs and enhance their growth and development.
"Zambia has over 300,000 Small to Medium Sized Businesses also known as SME's operating in the country. The majority of these are located in 3 distinct commercial areas in namel Lusaka, North Western and Copperbelt Provinces which are the main economic hubs of Zambia. We realise that SMEs in any economy provide the backbone of economic growth and this sector possesses great potential for growth," he said.
Mr. Malukutila further said the new SME specific propositions are meant to address the barriers and constraints that SMEs face in fulfilling their business and connectivity requirements.
"We believe that SMEs are key drivers of the Zambian economy and therefore we would like to partner with them on this new and exciting Digital Journey. Today, progressive SMEs are making use of Digital platforms to scale their businesses and MTN Zambia has a number of products and services that enable them to run their business more efficiently." he said.
The new proposition includes SME specific products and services such devices, voice features, SMS and Data packages to Cloud specific solutions that empower an SME to consume global corporate products but at a convenient, affordable price.
MTN Business leverages on the larger MTN Zambia Footprint to provide customized, fully converged, one-stop, 360-degree information and communication technology (ICT) services with the largest range of mobile and internet-based communications solutions.
Lusaka — Mobile Operator technology Company, MTN Mobile Money and Barclays Bank Zambia, have announced the launch of a forthcoming new Payment Operator System aimed at increasing financial inclusion and introducing an easy way to make payments.
MTN Mobile Money customers will now be able to pay for their goods and services on their mobile phones using the Barclays Bank Zambia POS terminal.
Speaking during the launch, Bank of Zambia Director Payment Systems, Mr Lazarous Kamanga who was the guest of honour, pointed out that such partnerships will ensure the Central Bank taps into the financial excluded adult population which is at 40.7% and begin to increase access and use financial services. The Bank of Zambia in its 2016 – 2019 strategic plan set out to increase the level of formal financial inclusion by 16 percent.
He further indicated that the next step in widening the offering of financial services products to the unserved and underserved population in Zambia and assured the two organisations of the Central Bank's unwavering support.
"The Central Bank wishes to commend MTN Mobile Money and Barclays Bank Zambia for this initiative aimed at bridging the financial services divide. Barclays' trail-blazing digital banking products coupled with MTN's large subscriber base, comprehensive distribution, innovative digital products and financial technology platform to provide much needed financial services to the unbanked stands as a shining example. It is the central bank's responsibility to ensure as many people, not only the urbanised population, have access to financial services, and this forms a core part of our 2016 – 2019 Strategic Plan. The progress we're seeing in this regard would not have been possible without the sustained interventions from private sector partners such as MTN Mobile Money and Barclays Bank Zambia."
MTN Zambia's General Manager, Komba Malukutila, noted that partnerships between banks and mobile money operators are fundamental in the mobile money ecosystem, hence his organisation's partnership with Barclays Bank Zambia.
"At MTN Zambia, we are committed to spearhead mobile payment in increasing financial inclusion in the country, we realise that mobile financial landscape has continued to evolve, and we need to constantly look at improving our products and services hence the exciting partnership with Barclays Bank Zambia on the launch of POS payment solution."