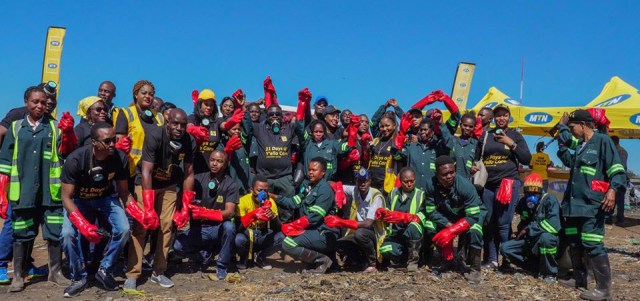 MTN is proud of its heritage and legacy in the developing world, and we see our future success and viability as being inextricably linked to the socio-economic wellbeing of our customers in Africa and the Middle East.
Just as we invest in communications technology and infrastructure in our host markets, so too does the MTN Group have an obligation to invest in the societies that constitute our customer base, now and into the future.
In line with our business strategy, MTN's CSI policy is to invest in projects and programs that will lead the way in helping beneficiaries build capacity and self-reliance using digital technology.
Due to the very nature of our business, our strength and best contribution to social development are not through simple grant making, but through our ability to support, develop and drive the use of sustainable digital technology solutions for our chosen CSI projects and programs.
21 Days of Y'ello Care
The '21 Days of Y'ello Care' campaign is an annual employee volunteerism initiative launched by MTN in 2007. It aims to secure high participation levels by staff in high impact social projects in their local communities.
Since its inception a decade ago, the campaign has proved to be a phenomenal success that profiles MTN as a caring and socially responsible company. Each year we strive to improve the effectiveness of the campaign.
During the Y'ello Care period, MTN Staff rolls up their sleeves and go out into the communities to volunteer their time by engaging in activities that empower the lives of people.
In the year 2019, we worked with the Ministry of Labour, Ministry of General Education, the National STEM Foundation, Manja Pamodzi Foundation and the Chibolya Media Farm to implement projects along this year's Y'ello Care theme of 'Creating a Brighter Future for our Youth.'
This year, we are proud to be the recipient of the prestigious MTN Group Award for the most creative Facebook post for the Y'ello Care period.
Cultural Preservation
Zambia is endowed with a rich cultural heritage. Traditional rulers are the main custodians of this heritage and host various ceremonies to celebrate their rich cultural heritage and showcase their traditions and beliefs.
Zambia has over 72 ethnic tribes and this variety of ethnicity adds to the diversity of these traditional ceremonies. The traditional ceremonies are different in nature and are widely spread throughout the country. Some are held to pay respect to ancestors while others celebrate rites of passage or thank the Gods for farming harvests.
MTN Zambia is proud to be part of these communities in which the ceremonies are celebrated, and as a responsible corporate citizen, we make contributions towards the successful hosting of these traditional ceremonies to help preserve them for posterity.